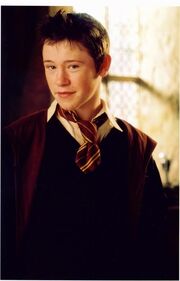 Devon Michael Murray
Devon Michael Murray (born 28 October 1988) is an Irish actor known for playing Seamus Finnigan in the Harry Potter films. Before Harry Potter, Murray had played Christy in This is My Father, Malachy in Angela's Ashes, and Geoffrey in Yesterday's Children.
Murray was born in County Kildare, Ireland, the only child of Michael and Fidelma Murray. After singing his way to success in talent competitions nationwide, Devon joined the Billie Barry stage school. Later he transferred to The National Performing Arts stage school and went from strength to strength as his abilities developed and matured. Murray's acting career began in the film This Is My Father which opened the door to opportunities on the big screen. Angela's Ashes closely followed by Yesterday's Children increased Murray's worldwide recognition, paving the way to his role of Seamus Finnigan in the Harry Potter film series.
Murray is an accomplished horseback-rider and has competed in a number of tournaments throughout Ireland. For this he has won several medals. Murray relaxes doing horseback-riding, skateboarding, quad biking and spending time out with friends. He also enjoys dance, rap and Irish music such as Christy Moore. Murray is Roman Catholic.
It was revealed by Daniel Radcliffe on a special feature of the Harry Potter and the Order of the Phoenix DVD that Murray had the record for breaking the most number of prop wands during the course of any single film -- ten in total.
He has been confirmed to reprise his role as Seamus Finnigan for the two parts of Harry Potter and the Deathly Hallows.
http://
Murray also appeared on The Podge and Rodge Show on 11 November 2008